Historical Exploration
The Rozino Project was first explored in the 1980's by the Bulgarian state company Asenovgrad Geoengineering EAD, which completed 86 vertical diamond drill holes for 14,289m.  Available drill technology was limited to vertical drill holes, which in the context of steeply-dipping zones of mineralization was not a suitable approach.  Hereward Ventures Ltd ("Hereward") and Asia Gold Corp. ("Asia Gold") began exploration in 2001 and completed 3 phases of drilling between 2004 and 2006, completing 55 diamond drill holes for 7,995m.  Diamond drilling was angled, but oriented to the northwest, parallel to the predominant outcropping structural trends and therefore less than optimal. 
In 2005-2006 Asia Gold carried out a structural review and identified a strong northwest control on mineralisation and completed 2 drill holes to test this new idea.  Drill hole R-245 was drilled towards the northeast, perpendicular to the newly-interpreted northwest control on mineralization, and intersected 68m @ 3.15 g/t gold, including 11.39m @ 8.09 g/t gold.  Assuming steep mineralisation striking 145o, which is perpendicular to the azimuth of the drill hole, the true width of significant intercept is estimated to be approximately 43.5m, however, exact true thicknesses at Rozino are difficult to ascertain with the current level of available data. 
In summary, 22,000m of diamond drilling has been completed to-date and yet the Rozino deposit is still not well defined.  Asia Gold's drill hole R-245 confirmed that mineralisation exists between the drill fences and the potential for additional wide intersects at high grades located between the existing drill fences is considered to be very good. 
Exploration Upside
Exploration upside at Rozino is good.  The area surrounding the drilled Rozino mineralization has historically been soil sampled and trenched with both methods providing coherent anomalies for follow-up.  Historical trench results in particular are compelling (see table below) and although only two historical drill holes (from 142 total) tested the trench anomalies, the results were positive.  Due to the limited amount of available data and variable orientation of trenches following irregular forest tracks and clearings, true thicknesses are at present difficult to ascertain.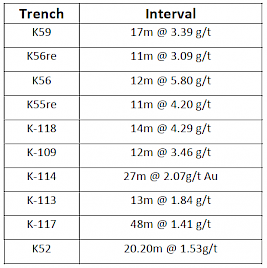 The Rozino Project is a typical Low Sulphidation Epithermal gold deposit hosted within Palaeogene sediments as disseminations, replacement and vein mineralisation.  The mineralogy of the Rozino deposit is simple, consisting mainly of pyrite.
Several historical metallurgical tests were completed at Rozino.  The most recent was reported by Wardell Armstrong on a single series of agitated cyanide extraction tests and the results returned average recoveries from 3 samples based on cyanide in pulp and cyanide in leach extraction of 94.7% and 97.7% respectively. 
Location
The Rozino Project is located 20km east of the 0.85 Moz Ada Tepe gold deposit, currently being developed by Dundee Precious Metals Inc., and 50km southeast of the city of Kardzhali, which is host to tailings and gold processing facilities operated by Gorubso.  Ada Tepe measured and indicated resource (2013); Upper Zone 5.0Mt @ 2.99g/t gold (0.482Moz, 0.6g/t COG) and Wall Zone 1.9Mt @ 6.13g/t gold (0.377Moz, 0.8g/t COG). 
Readers are cautioned that Ada Tepe is an adjacent property and that Velocity has no interest in or right to acquire any interest in the deposit, and that mineral deposits on adjacent or similar properties, and any production therefore or economics with respect thereto, are not in any way indicative of mineral deposits on Velocity's properties or the potential production from, or cost or economics of, any future mining of any of Velocity's mineral properties.
Ownership
Velocity (through a Bulgarian subsidiary) holds an option to acquire an undivided 70% legal and beneficial interest in the Tintyava property, free and clear of all liens and encumbrances, granted by Gorubso Kardzhali A.D. ("Gorubso").  To exercise the option for the Tintyava property, the Company must pay the $325,000 tender fee (paid) to the Ministry of Energy of the Republic of Bulgaria and deliver an NI 43-101 preliminary economic assessment ("PEA").  The option is exercisable for a period of up to six years. 
The Rozino Project described here is located within the Tintyava property which has an area of 163km2.  Tintyava is more fully described under Regional Exploration.