Rozino Development – Mine Site to Payable Gold
Velocity completed a Preliminary Economic Assessment (PEA) in September 2018 to earn a 70% interest in the Rozino project. The PEA provides a base case assessment of developing Rozino by open pit mining and on-site crushing, milling and simple flotation to produce a 30 g/t gold concentrate. The concentrate would then be trucked 85km on existing roads to the currently operating carbon-in-leach (CIL) plant where saleable gold doré would be produced.
The planned work program will advance PEA-level Rozino to prefeasability. The program will focus on drilling, optimization of PEA assumptions, and environmental monitoring and baseline assessment.
PEA1 Highlights
After-Tax Financials: After-tax NPV5% of $129 million and after-tax IRR of 33%
Cash Cost: All-in sustaining cost2 of US$543 per ounce
Annual Gold Production: Steady state3 annual production of 65,000 ounces, peak annual production of 78,000 ounces
Capital Costs: Total estimated capital costs of $97.6 million (includes contingency)
Sustaining Capital: Low estimated sustaining capital of $6.3 million
Mining: Open pit with 0.6 g/t gold Cut-Off Grade, attractive strip ratio of 2.5 and 1.51 g/t Life of Mine gold grade
Processing: On-site flotation producing gold bearing pyrite concentrate assaying 30 g/t and transportation to the CIL plant (located 85 km from the Project) for processing
ROCE: Return on capital expenditure of 3.3
(1) Base case parameters assume a gold price of US$1,250/ounce and an exchange rate (CAD$ to US$) of 0.75. All amounts are reported in Canadian dollars unless otherwise specified. Financial results on 100% equity basis.
(2) All In Sustaining Cost (AISC) is defined as all cash costs related to mining and processing to final product. It includes on-mine and off-mine costs (direct and indirect). Sustaining capital costs related to continuing the business including exploration, development and equipment required to sustain production are included. Taxes, working capital, M&A, disposals and acquisitions as well as new mine development capital costs are excluded.
(3) Steady state refers to the long-term average over time where processing throughput is maintained at nameplate capacity.
Significant Potential for Resource Expansion
Mineralization at Rozino is open and exploration drilling of priority targets located adjacent to PEA pit outlines is aimed at resource expansion. In addition, five regional priority drill targets exist within the project area.
Isometric View of Rozino PEA Pit Outline at 0.6 g/t Gold Cut-Off Grade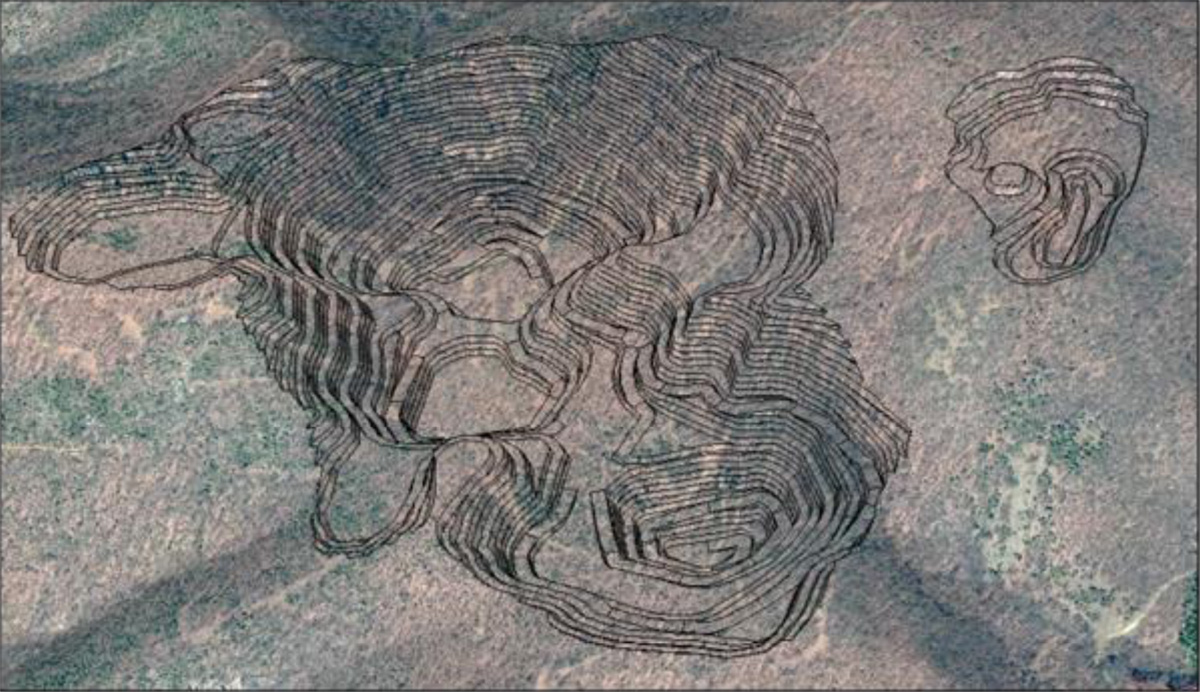 Mineral Resource Estimate
Inferred Mineral Resource Estimate (September 2018)
Cut-off Grade g/t Gold
Inferred Mineral Resource Estimate
Tonnes
(Mt)
Gold Grade (g/t)
Gold Metal
(koz)
0.2
50
0.59
948
0.5
17
1.17
639
0.6
13
1.37
573
0.7
9.7
1.57
490
Effective date September 10, 2018.
Mineral resources are not mineral reserves and do not have demonstrated economic viability.
The mineral resource has been estimated in accordance with the Canadian Institute of Mining, Metallurgy and Petroleum "CIM Definition Standards for Mineral Resources and Mineral Reserves" (CIM, 2014).
The PEA is preliminary in nature and includes Inferred mineral resources that are too speculative geologically to have economic considerations applied to them that would enable them to be categorized as mineral reserves. There is no certainty that the PEA results will be realized. Mineral resources are not mineral reserves and do not have demonstrated economic viability.
The PEA was prepared by CSA Global, an international mining consultancy with experience in Bulgaria, in accordance with National Instrument 43-101 Standards of Disclosure for Mineral Projects.
Historical Exploration
Historical drilling completed at Rozino prior to Velocity's involvement includes 86 vertical holes drilled by Geoengineering EAD, 40 angled holes drilled by Hereward Ventures Ltd. and 15 holes drilled by Asia Gold Corp. for a total of 22,284m. From this master database 28 Hereward drill holes (3,794m) and 6 Asia Gold drill holes (740m) are within the current Velocity resource area.
Location
The Rozino project lies within the municipalities of Ivaylovgrad and Krumovgrad in southeast Bulgaria, approximately 350km by road east-southeast of the capital, Sofia.
The Rozino project is located 20 kilometres east of the 0.85Moz Ada Tepe gold deposit, currently being developed by Dundee Precious Metals Inc. (TSX: DPM), and 50km southeast of the city of Kardzhali, which is host to tailings and gold processing facilities operated by Gorubso. Ada Tepe measured and indicated resource (2013); Upper Zone 5.0Mt @ 2.99g/t gold (0.482Moz, 0.6g/t COG) and Wall Zone 1.9Mt @ 6.13g/t gold (0.377Moz, 0.8g/t COG).
Readers are cautioned that Ada Tepe is an adjacent property and that Velocity has no interest in or right to acquire any interest in the deposit, and that mineral deposits on adjacent or similar properties, and any production therefore or economics with respect thereto, are not in any way indicative of mineral deposits on Velocity's properties or the potential production from, or cost or economics of, any future mining of any of Velocity's mineral properties.