Option for 50% Interest in Operating Chala Mine
Velocity has negotiated an option to earn a 50% interest in the operating Chala gold mine through exploration expenditures of $1 million. Historical resources of 1.5Mt @ 9.83g/t gold containing 450,000 ounces (1) gold at the Chala mine have been published (1998). Planned work at Chala includes an underground drill program to explore for additional mineralized zones at the mine.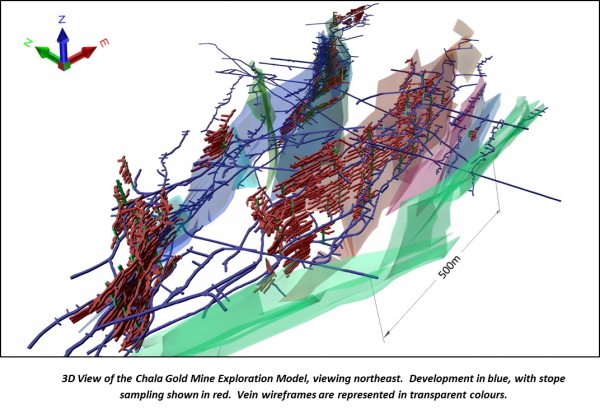 Cautionary Statement Regarding Historical Resources
(1) Historical resources at the Chala Mine are reported as 1.5Mt @ 9.83 g/t gold (450,000oz). The historical resources were published by Kestebekov C, 1998, in "Chala gold-polymetallic deposit, Spahievo ore field. Results of 1983-1997 geological exploration with estimated resources of gold and gold-polymetallic ores as of 01/01/1998". Total historical production at the Chala Mine is estimated to be approximately 120,000 oz. The historical resource estimate was produced using the Bulgarian classification scheme, based on manual polygonal methods of resource classification. A qualified person has not done sufficient work to classify the historical estimate as current mineral resources or mineral reserves. In order to verify the potential existence of additional unmined mineralization at the Chala Mine, significant drilling will be required.
The Company is not treating the historical resources as current mineral resources or mineral reserves. Historical resources are not consistent with the standards of disclosure defined by National Instrument 43-101 Standards of Disclosure for Mineral Projects ("NI 43-101") and may not necessarily be consistent with CIM (Canadian Institute of Mining, Metallurgy and Petroleum) best practice with respect to reporting mineral resources and reserves. Historical resources are included because they are considered relevant by the Company as they provide additional support for the potential exploration drilling at the Chala Mine by Velocity.