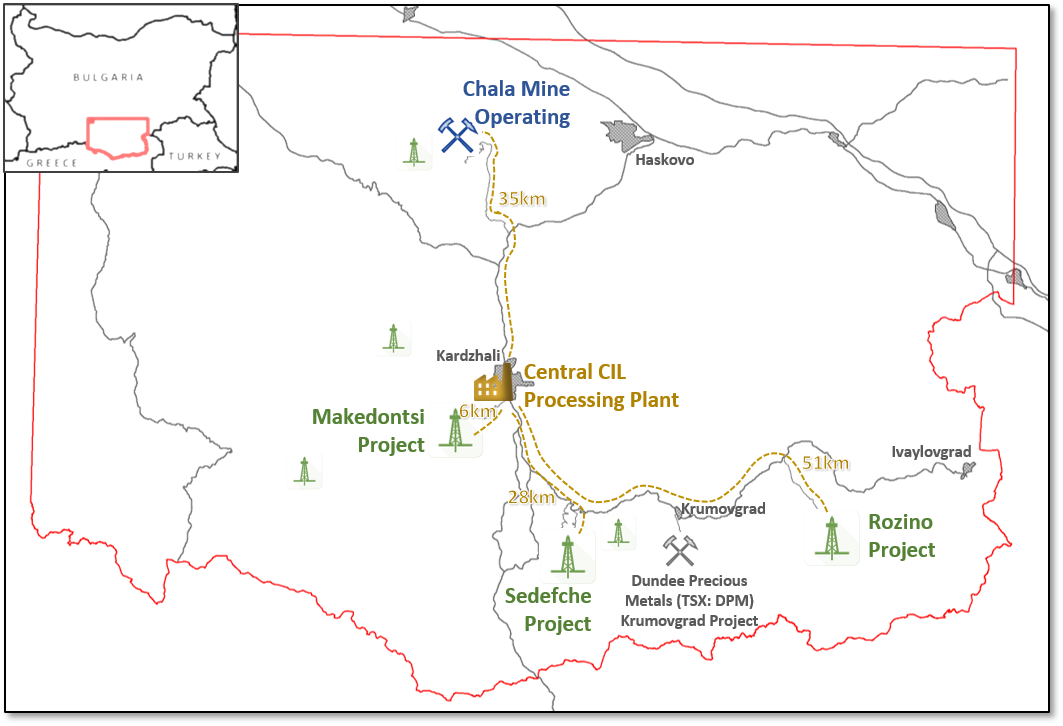 Processing Plant – Access to Operating CIL Plant
Rozino Project - Earn 70% interest on delivery of Preliminary Economic Assessment
Sedefche Project - Earn 70% interest on delivery of Feasibility Study
Makedontsi Project - Earn 70% interest on delivery of Preliminary Economic Assessment
Other Exploration Projects – Earn 70% interest on delivery of Resource Estimate or Preliminary Economic Assessment
Operating Chala Mine - Earn 50% interest on exploration expenditures of $1M
Balkan Gold Project – Exploration and Mining Alliance
At the Balkan gold project, the Company envisions staged open pit mining of satellite deposits and transportation to a central CIL processing plant. In addition, potential development and expansion of an operating underground mine at the Balkan project may increase throughput to the CIL plant.
In February 2018 Velocity formed an Exploration and Mining Alliance with Bulgarian operating partner Gorubso Kardzhali A.D. The Alliance area covers all existing and future Gorubso and Velocity projects within an area of 10,400 km2 covering the prospective Eastern Rhodope Gold Mining District in southeastern Bulgaria. The Alliance is the cornerstone of the Balkan gold project.
Through the Alliance, Velocity has exclusive access to a CIL gold processing plant and has negotiation options to earn a 70% interest in seven near-surface gold projects and a 50% interest in an operating underground gold mine.